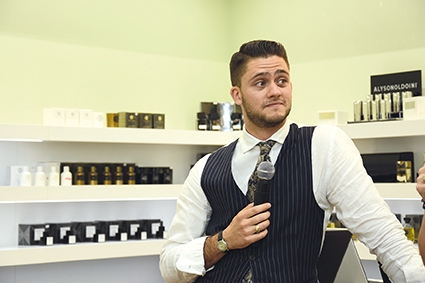 Pantheon Roma – an Italian perfume brand, founded in Rome
The brand is inspired by a story of the Italian Renaissance on the recognized universal artist Raphael Sanzio. On the instructions of the Pope of Rome, the painter began to paint the Vatican Palace. During this period, Raphael was engaged to Maria, the daughter of Queen Medici, but fell in love with a baker's daughter. The forbidden love between them did not end well. After spending a night together, the painter passed away. He was the only painter to have had the honor of being buried in the Roman Pantheon. Margherita, who was madly in love with Raphael, became committed to his endless love and spent the rest of her life in a convent.
This story inspired the Pantheon brand, sparking memories, feelings and the sharing of endless love.
Cosi Blue – an expression of mysticism and freedom from the Renaissance period. The vertical view between earth and sky, natural and mystical. Blue was an expression of divine color during the Renaissance period. The scent is unique, incorporating the earthly chaos and wealth of Raphael, while the bottle is decorated with a 16th century Italian painting, and the entire line of the collection is dedicated to the famous painter Raphael. The scent expresses the smell and color of the sky.
The aroma is linked to peace, freedom and mysticism.
Dolce Passione – refined purity and elegance, with a warm and turbulent atmosphere expressing a pleasant spontaneous sensation. It was a 2016 fragrance created for both men and women.
L'Arome Boutique – a chain of niche perfume boutiques, featuring niche perfumes created by the best perfumes.
Leone Fadelli presented the niche brand Phantheon Roma.
By Anna Zhvania
02 July 2018 18:26